About the Show
Unpacking Coffee is a show born out of a curiosity about how coffee brands distinguish themselves and articulate those stories through design.
The world of coffee is wide open and it's exciting.  Did you know that over 2 billion cups of coffee are consumed in the world every day. And there are thousands of small and large roasters out there roasting phenomenal coffee. Unpacking Coffee samples them all.
Where?
Come join us on our journey to discover new coffee roasters, one bag, one episode at a time.
Subscribe
iTunes
YouTube
Vimeo
Online & Social
Website
Email
Twitter
Instagram
About the Producers
Unpacking Coffee is produced by Needmore Designs, your go-to studio for all of your web, packaging, branding, and campaigns for coffee and lifestyle brands.
Ray is a Coffee Guy. He's been involved with eight coffee companies and was key in getting four off the ground (includingStumptown Coffee Roasters). He has a keen design eye and bordering-on-obsessive love of coffee.
Kandace, on the other hand, comes from an anthropological angle and is focused on getting to the heart of the brand story.
Together, we are on a mission to share our mutual love of coffee and design.
Promote the Show
In the press kit provided below are the logos for the show and show cover art.
Press Kit
Press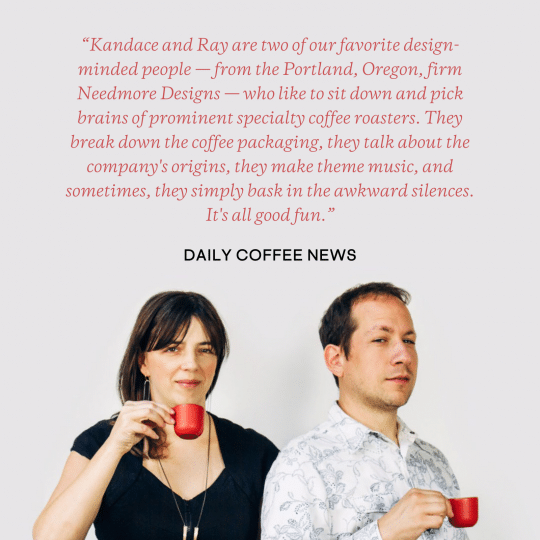 10 Best Quotes of the Year from Unpacking Coffee with Kandace and Ray
Unpacking Coffee with Kandace and Ray: Andrew Barnett's Linea
Unpacking Coffee with Kandace and Ray: Dapper & Wise
Unpacking Coffee with Kandace and Ray: George Howell, Part 2
Unpacking Coffee with Kandace and Ray: Heart Coffee Roasters